KELVIN – HELMHOLTZ INSTABILITY IN SCIENCE, ART AND THE NATURE
---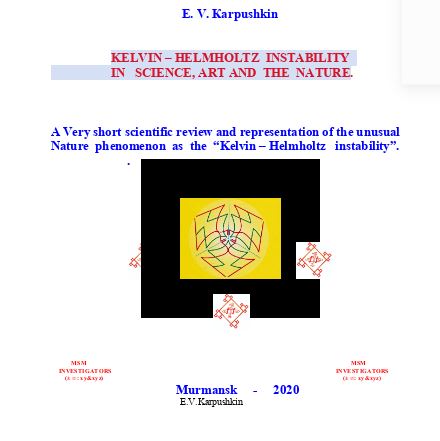 | | |
| --- | --- |
| Группа | Документальная проза (нон-фикшн) |
| Название на русском языке | KELVIN – HELMHOLTZ INSTABILITY IN SCIENCE, ART AND THE NATURE |
| Авторы на русском языке | Карпушкин Е.В. |
| Название на английском языке | KELVIN – HELMHOLTZ INSTABILITY IN SCIENCE, ART AND THE NATURE |
| Авторы на английском языке | Е. V. Кarpushkin |
---
Резюме
In this Article, the "Kelvin - Helmholtz instability in Science, Art, and the Nature",
is written about the famous Natural but seldom event in our life that has now a lot of their
fans and the usual followers & observers as in scientific circles of the Earth's progressive
Societies & States as inside of the tiny family cells in view of the "kitchen" people as well.
The above mentioned event is a very seldom one and that is why it has a very small
base of the demonstrative information and the scientific publications, made by the famous
scientists.Even the Holland postimpressionist with the World's name as Vincent Van Gogh
has created only one masterpiece under the name "The Starry night", where the real
elements of Kelvin - Helmholtz instability are perceptible on the thinnest human level.
In their time, these two scientists, Lord Kelvin & Hermann Helmholtz were busy very much
being investigating the well-known today physical problems which they could only observe
in their scientific experiments with the usual water, having the same physical properties and
parameters but the different densities. The results of their scientific investigations became a
new page in the physics science & the base for their further investigations.The same scientific
pictures were seen not only in the liquids but in the clouds flow on the sky, the surface
of the marine waves movement at the sea shore or in the open ocean, and even in the far
Space, for example, with the rings of Saturn, a planet of our Solar system as well.
The Author of this text has become, some years ago, the occasional witness of this
Natural event and he has made three photos gallery. The local specialists have explained to
me, who never listened about such a very seldom fact and object of the Nature, its name
consisting of two surnames as the Kelvin-Helmholtz instability. In some days, the popular
local evening city newspaper "EM" has published in one of its issues the color photo with
my short story about its origination. The newspaper readers were surprised very much.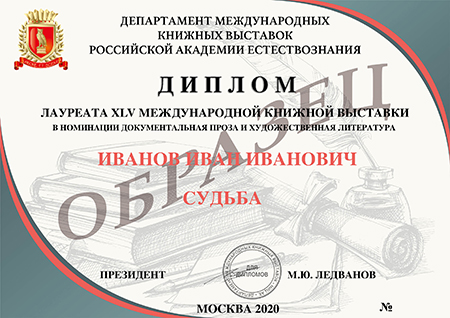 Издание "KELVIN – HELMHOLTZ INSTABILITY IN SCIENCE, ART AND THE NATURE" (Карпушкин Е.В.) отмечено
ДИПЛОМОМ ЛАУРЕАТА XLV МЕЖДУНАРОДНОЙ КНИЖНОЙ ВЫСТАВКИ В НОМИНАЦИИ ДОКУМЕНТАЛЬНАЯ ПРОЗА И ХУДОЖЕСТВЕННАЯ ЛИТЕРАТУРА